Delaine Eastin, Candidate for Governor
November 15 @ 7:00 pm

-

9:00 pm
Event Navigation
"A Vision for California! Working Together to Address Our Challenges!"
Delaine Eastin – Candidate for Governor & Former California Superintendent of Public Instruction

We are honored to welcome the Honorable Delaine Eastin, a dynamite speaker with a compelling vision for California. She will not be silent when she sees our democracy being threatened.
"If we want our democracy to last another 200+ years, our government must be seen as a force for good again. Budgets are statements of values, and I want California's budget to reflect the values and priorities that built our great state."
She will not be silent when more than 40% of the children in California live in poverty. She is concerned that early childhood education is not even on the radar of some of the candidates. Are you concerned about the environment? Delaine thinks California's next governor needs to be an international leader for our planet and our people. Come hear the vision Delaine has for California!
Delaine Eastin has held positions as a California State Assemblymember, State Superintendent of Public Instruction, professor, and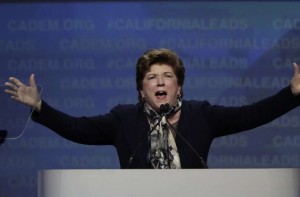 businesswoman. She was the first woman (and only, to date) to be elected as the California State Superintendent of Public Instruction. As Superintendent, she made class size reduction her top priority. Her advocacy persuaded the governor and the legislature to invest $2.3 billion in cutting class sizes. K-3 class sizes were cut from 30 students to 20 students in 98% of all school districts. In addition, during her first term, Eastin cut administrative waste by streamlining and modernizing contracting procedures in the Department of Education and by standardizing accounting procedures.